Euro Segmented Diamond Blade
For any questions or bulk buying call (866) 971-3774
Regular price
Sale price
$14.00
Unit price
per
Sale
Sold out
Steel-Core Diamond Saw Blade
The Euro Seg is one of the best segmented masonry blades available today on the market, outlasting the competition with its heat-treated steel core. Ideal for wet or dry, general-purpose brick, block and concrete cutting, the Euro Seg is a great choice for the contractor or DIY homeowner who is looking for a durable, deep-cutting blade at an affordable price. We infuse our blades with the highest-quality diamonds for faster, cleaner cuts and durability that cannot be topped. Shop our online selection and find the right blade for your next project. Take advantage of our low prices and fast shipping on all orders.
Specifications
10mm Segment Height
High-Speed
Use Wet or Dry
Cutting Blade

general purpose brick, block & concrete.
Bond

Medium Bond
Block, Heavy Wt. [36#]
Brick
Clay Pavers
Concrete Pavers
Concrete Pipe
General Purpose
Hard Stone
Limestone (soft)
Masonry
Quarry Stone [soft]
Roots
Sandstone
Tarmac
Terra Cotta
Tile, Roof
Share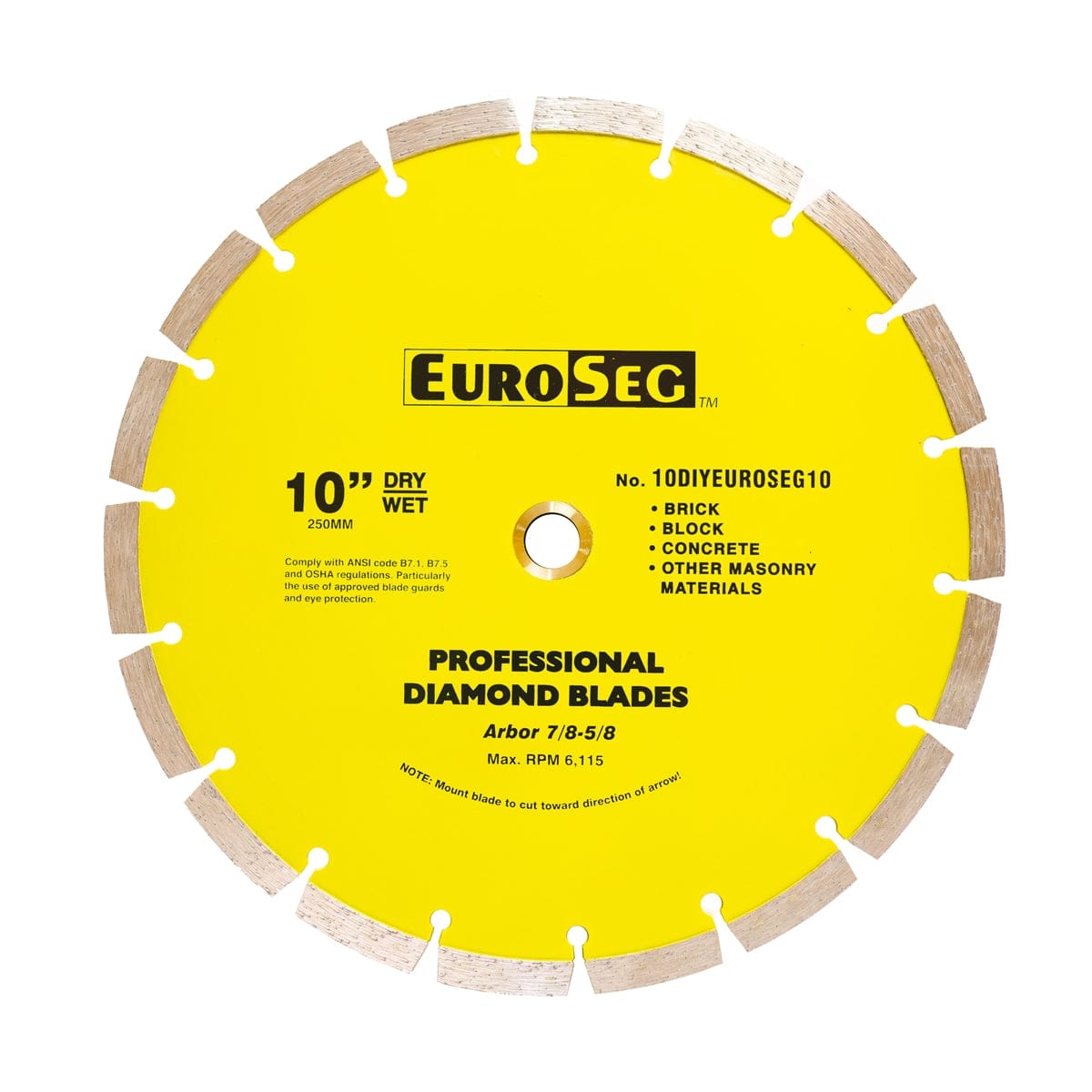 Concrete & Masonry Contractors
Let us help you with Bulk Diamond Blades - Save time and money when buying popular items like Core Bits, Cup Wheels, Diamond Saw Blades and more!
Learn More
SHIPPING CUT-OFF

Orders placed before 3 p.m. will be shipped out same-day or typically within 24-48 hours (M - F)

CUSTOMER SERVICE

We are available 24/7 to answer your questions and provide advice.