Twister Pro 7 in. Diamond Grinding Cup Wheel
For any questions or bulk buying call (866) 971-3774
Regular price
Sale price
$77.00
Unit price
per
Sale
Sold out
Twister Pro 7 in. Diamond Grinding Cup Wheel
The Twister Pro has a flatter arch than standard cup wheels to prevent gouging concrete and is used for prepping edges for polishing concrete floors. Great blade for edging in the polishing of concrete system. The aggressive nature of the Twister Pro diamond cup wheel provides fast cutting on masonry and stone. This type of cup wheel leaves little to no swirl marks and will give you a 30% longer life than most cup wheels on the market.
The advanced design of the Twister Pro is built for high-performance surface grinding for concrete, tile, and asphalt surfaces and works efficiently to remove surface coatings, glue, urethanes, mastic, and paint. The longer working life with fast removing speed enables less working fatigue and eases the workload overall. These segmented grinding wheels are considered one of the best in the market today because they deliver excellent performance with long-lasting life expectancy. This grinding tool is ideal for contractors who are concerned with upfront costs, performance, and reliability.
Share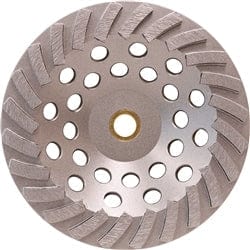 Concrete & Masonry Contractors
Let us help you with Bulk Diamond Blades - Save time and money when buying popular items like Core Bits, Cup Wheels, Diamond Saw Blades and more!
Learn More
SHIPPING CUT-OFF

Orders placed before 3 p.m. will be shipped out same-day or typically within 24-48 hours (M - F)

CUSTOMER SERVICE

We are available 24/7 to answer your questions and provide advice.